Finding enjoyable parks for kids can be a challenge, no matter the time of year. Now that it's summer, though, what better place to enjoy those extra hours of sunshine than "Pittsburgh's Destination for Family Fun and Entertainment?" Kennywood offers not only a kid-friendly park, yet outdoor activities that the whole family will find fun in the summer sun! From thrill rides for all ages to family-friendly shows, and food that's always delicious and picnic-perfect, we have it all here! Summer is the season for families to come together and reconnect, and there's no better place than right here in the Steel City's playground!  
Kennywood is the perfect place for spending hours outside smiling alongside your children -- no matter the season! Taking your child's hand, you can walk back in time through our extensive yet always fresh and fun history any day of the year. Look out over the Monongahela River as you enjoy a picnic, and share the stories of the past and present with your loved ones. You can show your children the wonders you grew up with, like Jack Rabbit – but, remember, they're sure to see it with new eyes! Of course, since there's more fun to be had, you'll have enjoy it before they rush off to Thomas Town ™  to meet all their favorite characters!  
In Thomas Town™, your very own Journey With Thomas lets you take in sights like the Edgar Thomson Works, and even more beautiful natural scenery! With the breeze in your hair and the smells of The Potato Patch in the distance, getting the whole family outdoors like this can't be beat. You'll be reminded just why you've been coming back all these years, and your children will find their Pittsburgh pride too! Here are just a few of the many reasons Kennywood is the best park for kids to get outdoors. 
Reason 1: The Broad Offer of Attractions For the Whole Family!
When choosing kid-friendly parks and outdoor activities, we all know it's key to ensure every family member has a way to make the best memories. Here at Kennywood, we put kids first with two different themed areas in the park dedicated to their dreams. At Kiddieland, your children will be able to enjoy the fresh air while having fun on a dozen attractions dedicated solely to them! You can sit beside them in a car modeled after the ones from history on the Crazy Trolley, and imagine you've gone back in time. Or, let them get their first taste of roller coaster thrills on the Lil' Phantom (before taking on the Phantom's Revenge one day).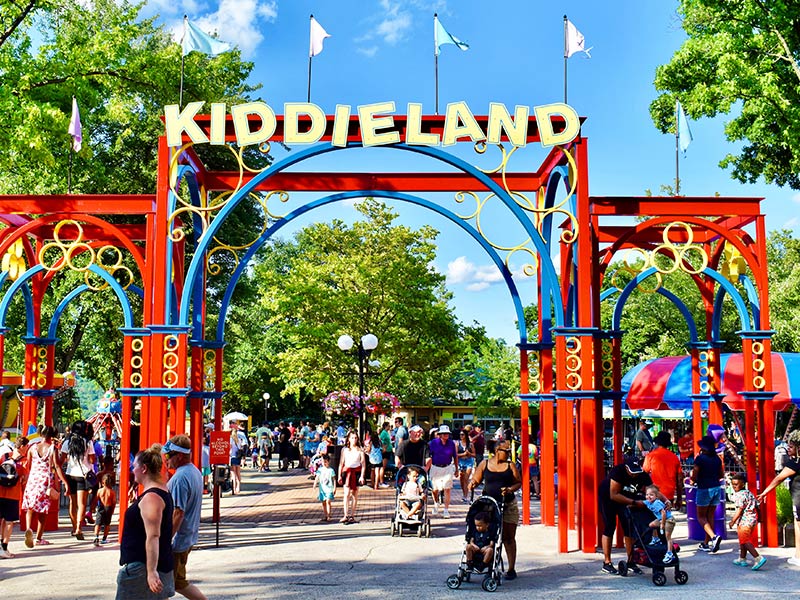 If your children have a love of trains, or if they are a fan of the show Thomas and Friends™, bring them on down to Thomas Town™! One of the ultimate ways to experience Pittsburgh with its history of trains, let your young conductor play on the rails of yesterday today! You'll laugh while watching them make friends with Thomas and all their favorite smiling engines at the Steel City Adventures! Live Show at Tidmouth Sheds. They'll watch the stories of both their childhood and yours come to life under the open sky, and help their favorite railroad team to make some special deliveries! If it's a special day, they could even have a party at the Thomas Town Party Room, offering a perfect view of the trains! 
But, even parks for kids have heart-racing attractions for young and old daredevils alike, and Kennywood's "big-kid" rides can't be beat! There's no better way to see the Monongahela River and the ravines of Kennywood's terrain than while rushing along in your favorite coasters like the Racer. Or, for a different kind of family fun, dare your kids to join you in sailing through a thrilling dark ride at the long-time favorite, the Old Mill. On a hot day, it might just offer the break from the sun you and your children need – but no break from excitement! If fun in the sun is too good to pass up for even a minute, though, the classic Paddle Boats are the perfect relaxing alternative! 
Reason 2: Each Season Has Something Different
Our park goes hand-in-hand with all our year-long outdoor activities that will have your children begging to come back! Starting with the long days of summer, your family can fill those extra hours of light right here at Kennywood. In addition to all our usual yummy offerings, and the option to bring your own picnic, there's the Bites and Pints Food and Drink Festival in June. Though "chef-inspired cuisine" may not spark your young one's interest, the promise of "super-special snacks and sweets" you can all enjoy together should! Not to mention our special July event, Kidsfest, that was literally named in their honor and in which they can enjoy character meet-and-greets and other special kid-friendly activities! 

As the long summer days slowly grow shorter and the air cools, though, there's the refreshment of Autumn at Kennywood. Starting with the Fall Fantasy Parades, the tree-lined streets of Kennywood come alive with music, color, song, and dance! One of our grandest traditions, your little ones will be bouncing to the beat of more than 130 bands from local high schools and universities. If your youngest family members need more snatchable snacks, there's always the Pittsburgh Pierogi Festival in September, where they can be excited by international flavors! Not to mention Happy Hauntings, which is a family-friendly Halloween event for kids to enjoy trick-or-treating right here in Kennywood! 
Once the festive days of Fall are behind you, though, there's the most magical season of the year, bringing with it the Holiday Lights at Kennywood. There's no better way to experience Pittsburgh with kids than right here, where the cold air highlights our outdoor shows all season long! From the Holiday Lights Show to the Sounds of the Holidays, you can gather under the stars to watch a constellation of a few million lights that twinkle to music. Afterwards, take in yet another kid-friendly spectacle at Doc Dixon's Magic Show, or the even more fun Parker's Dance Party! If that's not enough to get them excited, though, just let them know that they can meet Santa and decorate cookies and watch the Christmas joy shine!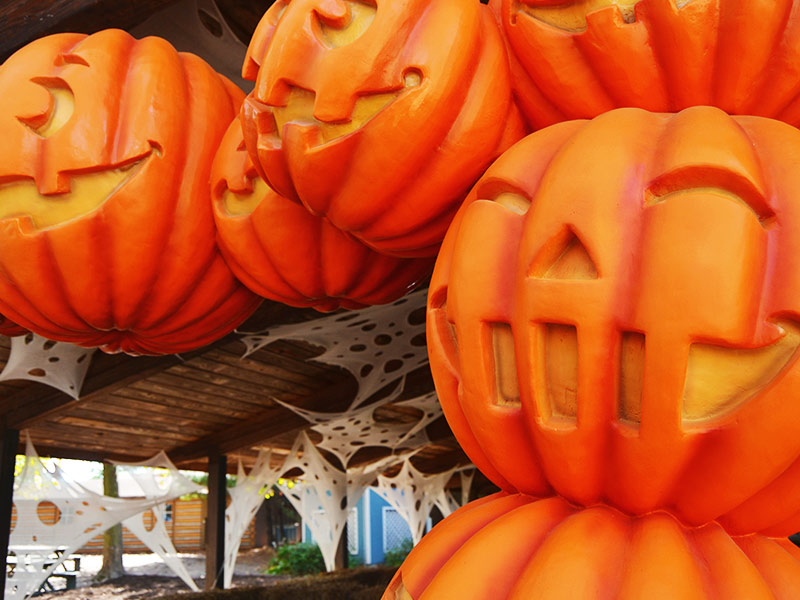 Reason 3: Perfect Extra Options Make a Great Park For Kids
The thrills of our park combined with all-day outdoor activities year round can be made even more fun with extras for the whole family! Before even stepping foot in Kennywood, we can give your family the VIP treatment they deserve by booking one of Kenny's Kabanas. Located next to the kid favorite, Noah's Ark, our kabanas give all your kids a comfortable place to play (while you get some rest!). Private, shaded, and right in the center of the park, families of up to eight guests can relax just as comfortably as at home. And, in true vacation style, you can even enjoy food service that starts this summer, ensuring both you and your kids have everything you need! 

If your family is energetic, you may be led by your kids from one of our many stores to the next in search of adventure! Starting with our gift shop at the front gate, your kids will be awed by our colorful Kennywood merchandise and candy, but there are plenty of helpful amenities also. From wagons to wheelchairs to motorized scooters, we make sure every member of your family can access our park with comfort and ease. Not to mention the excitement to be had at Lost Kennywood Gift, our biggest store that promises fun for everyone! Your kids will fall in love with their very own hand-made Kennywood friend in the accompanying Bear Factory, while you find the perfect nostalgic memory.  
Our stores cover all tastes when it comes to shopping, and our restaurants do the very same for our guests' taste buds. Nothing says a day in Pittsburgh like a family visit to the Potato Patch, our most popular restaurant with a fry for everyone! For a themed meal that your young Steel City fans will think is a TOUCHDOWN, you can touch-base over a bite at the End Zone Café. And, for a gluten-free option for you or your little ones, Small Fry's offers snacks that are 100% gluten-free! If all of this sounds too good to pass up, there's the One-Day Dining Pass that lets you get two combo meals and a snack! 
In a world of so many different amusement parks, Kennywood is the best place for entire families to come together and enjoy the beautiful Pennsylvania outdoors. With attractions ranging from mild to wild, and some over a century old, everyone can come and make the memories that keep visitors coming back. No matter the season, the month, or the day, there's always a special chance to enjoy the natural side of Pittsburgh! With shows and special events from summer to winter, and fall festivities in between, there's no time of year that's boring here! Plus, with our carefully crafted extras, we ensure that, from the youngest to oldest family member, everyone can head home with their own piece of history.