When looking for fun things to do in Pennsylvania, there are options for anyone to have the perfect day, no matter their interests. For the more artsy, there's the Andy Warhol Museum, where the history of pop art comes to life through the ages. For the sporty and the proud local (or out-of-towner), there's always the option of a Steelers game to let that Steel City spirit show. On a hot day, and for the whole family, there's the option of the Sandcastle Waterpark to keep cool in the heat.  
Of all the fun things to do in Pittsburgh, though, the one for the best memories and historical fun alike is the Steel City's Kennywood. With over a hundred years of history embodied from our trolley tracks to the scenic Monongahela River, we have something exciting for everyone. Pittsburgh's Thrill and Entertainment Destination offers historic roller coasters for the thrill-seeker while overlooking beautiful scenery and even the steel mills that made it all possible. For a quieter classic thrill, you can always enjoy our Paddle Boats on the very same lagoon that guests of Kennywood enjoyed over a century ago.  
Though there are other fun area places, Kennywood is one of the first places locals of the Steel City mention when asked what's best. From the salty fries of The Potato Patch, to the different versions of The Old Mill, locals will tell you everything there is to know. For a piece of history you can walk through, Noah's Ark has been taking families on splashing adventures since 1936. Though all of these make for classic fun, two of Kennywood's newest themed areas offer even more excitement for the whole family!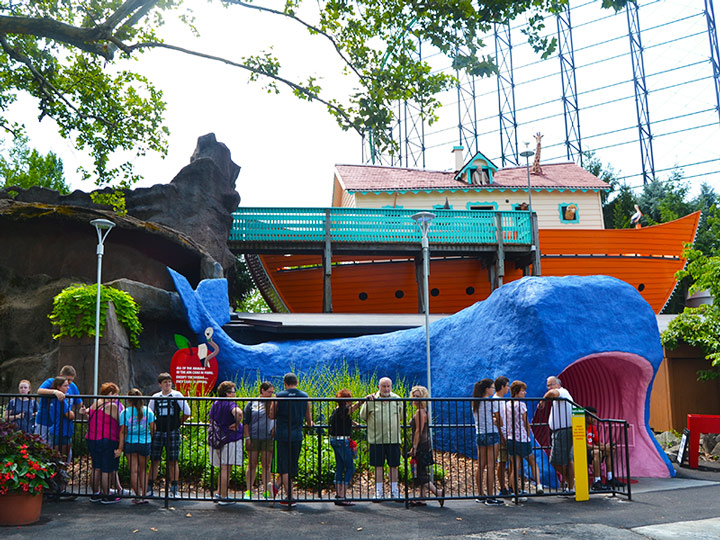 Unique Places For Unique People
On our list of fun things to do, we've put Kennywood at the very top because of our Steel City pride! From the trolley tracks of the original Kennywood to a certain sports team, we're proud of our connection to Pittsburgh's steel industry. Here are the two newest, loudest, and proudest parts of our park that you won't want to miss!
Steelers Country
Roaring into the modern era, Kennywood is pumped to present our TOUCHDOWN of a brand-new area dedicated to the tales of our team: Steelers Country! With high-flying, heart-racing attractions and plenty of places to practice your game-day skills, this is one part of the park you can't afford to miss! Starting with the Steel Curtain, voted the Best New Coaster of 2019, you can survey the steel splendor of the city that started it all. You'll be an MVP if you make it through – especially while surviving the particularly intense inversions, including the tallest one in the world! Once your warm-up is complete, you and your team can head over to The Steelers Experience, where you can show off your real-life Superbowl skills.
Afterwards, every good athlete needs some refreshments, which is where the End Zone Café and the Tailgate Patio come into play! Steelers Country's indoor restaurant offers a chance to beat the heat with a sit-down meal of fit for the big game. For that true fan experience, though, the outdoor tailgate picnics can't be beat, and they'll keep the game action going long after the last touchdown. If any particularly pumped-up members of your team need even more action, our strength-and-endurance-testing Midway Games should keep them on their toes. For the most devoted Steelers fan, we even have you covered with exclusive merchandise that will make you feel like you're at the stadium!
Thomas Town
Though we love our local sports team, sometimes we love to focus more on literal steelers: trains! Thanks to Thomas Town™, you can watch all the smiling engines that both you and your children love come to life right here at Kennywood. Take a trip with everyone's favorite Number 1 Blue Engine on your very own Journey With Thomas, one of the best ways to see the park! You and your kids will be in awe of the views of the Monongahela River and the Edger Thomson Works, and able to witness history together. For even more fun, your kids can meet Thomas and all his friends at the Steel City Adventures! Live Show at Tidmouth Sheds. 
Historical Fun For Virtually Forever
Of all the fun things to do in Pittsburgh, nothing beats our wide variety of thrill rides and exciting attractions! Though not all are a century old, our rides offer the chance to make memories that will last through the generations -- starting today! Here are just a few of the most fun rides we have to offer. These are rides we know you'll want to experience again and again!
Jack Rabbit
This is everyone's favorite coaster that has been around for as long as anyone can remember but is just as fun and bouncy as ever! Jack Rabbit celebrates over 100 years of thrills, and now is a great time to let your own children and newcomers to Kennywood alike experience the magic! With generations coming back again and again to feel the rush on its iconic 70-foot, double-dip drop, this coaster is fun for the whole family. Designed and built by John Miller on a natural ravine, Jack Rabbit is quite literally a part of our land like no other. Bringing smiles to faces for over a century, we're sure just one trip on its tracks will leave you laughing.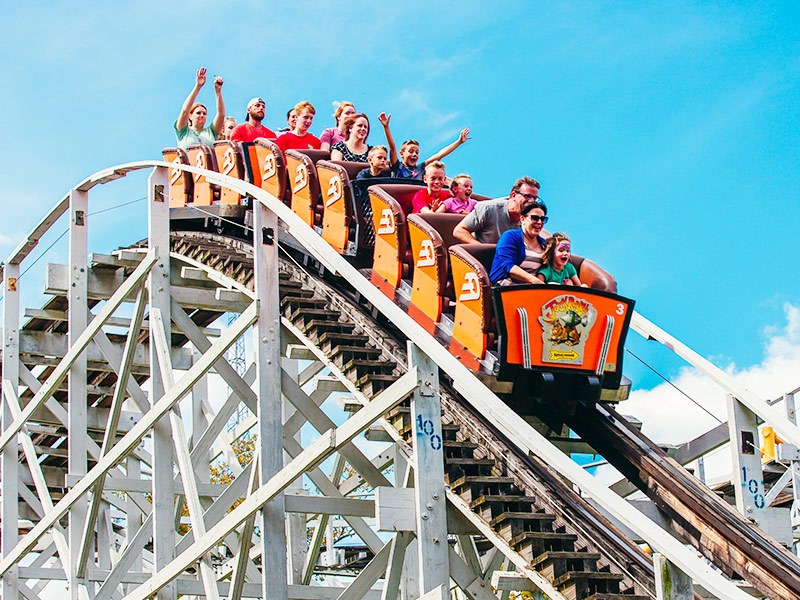 Sky Rocket
Much newer than our classic coasters, but no less fun, the Sky Rocket launches you up into the air with a whoosh! From zero to 50 miles-per-hour in under three seconds, there's no need to wait for a hill to get that roller coaster super speed thrill. You'll feel the rush of the wind faster and longer than the average coaster, and be laughing along the whole time as you feel weightless. 
Thunderbolt
Dubbed the King of Coasters and Ultimate Roller Coaster since 1974, the Thunderbolt has been among the best on people's "top coasters" list for decades! With a plunge immediately upon leaving the station and its biggest drop at the end, the Thunderbolt is the coaster that leaves people in awe. Don't ride this one alone, as the force is so strong you'll be needing a buddy to hold onto. 
Phantom's Revenge
Much like Jack Rabbit and the Thunderbolt, the Phantom's Revenge is a coaster filled with memories and history. A remake of the Steel Phantom you may have been haunted by back in the day, the Phantom's Revenge retains part of the original ride. For the first two hills, the track is the same as it was decades ago, keeping the memories of the original coaster alive even now. But now with hard turns and bouncy bunny hops, and an extended drop through the Thunderbolt, the new Phantom is faster than ever! 
Black Widow
One of our most thrilling rides, Black Widow towers over the park, casting an intimidating web! A pendulum ride that lets you experience the feeling of weightlessness coveted by thrill seekers, this is not a ride for the faint of heart! Standing 90 feet tall, but reaching a height of 146 feet in total, it takes a true daredevil to experience the Black Widow's fury. 
Year-Round Fun Available in Pittsburgh
Regardless of which rides and attractions you most enjoy, we always have some of the most fun things to do in Pittsburgh! Starting with the summer, there's never a dull moment in Kennywood, where we honor our patriotic history in many ways! From the Bites and Pints Food and Drink Festival to our Celebrate America event, we never miss an opportunity to bring culture to our backyard. Couple those with one of our grandest traditions of Fall Fantasy and even the Pittsburgh Pierogi Festival, and the fun doesn't stop all season long!
Once the weather cools, Kennywood is the place to come for even more fall fun for all ages! Happy Hauntings is a family-friendly event that lets children enjoy the usual traditions of dressing up and trick-or-treating, but right here at Kennywood. For the older and bolder, Phantom Fright Nights is a fright-filled festival that isn't for the faint-hearted, but makes epic memories for the brave. Once the weather chills even more, you can come indulge in some of our warmest holiday traditions during Holiday Lights – with cool lights and cozy company!
There are a lot of fun things to do in Pennsylvania, but here at Kennywood we offer the chance to make memories you won't forget! From Steelers Country to Thomas Town™, every member of your family or party will find a special place for their unique self. Our rides are always thrilling and filled with memories from one generation to another – memories you can add to no matter the time of year!