Log flume ride to be retired at end of 2017 Summer Season to make room for future
As Kennywood's 2017 Summer Season winds down and we look ahead to 2018, we've come to a very hard decision: the Log Jammer will retire at the end of this season. To celebrate 42 years of our favorite logs, Kennywood invites friends, families and Pittsburgh visitors to enjoy one last ride down the 53-foot drop chute before the summer season comes to an end on September 17. While we know that the Log Jammer is a beloved ride for many of our guests and has been for us as well, we're looking forward to exploring exciting new developments in that corner of the park in future seasons. The Log Jammer debuted at Kennywood in 1975 as the park's first million-dollar attraction. The site of the Jammer was previously home to attractions including the Kangaroo, Loop-O-Plane, Bayern Kurve, a Ferris Wheel, and, from 1930 until 1974, a pony track.  
While high school and college students are traditionally the bulk of each park's seasonal staff, the number of mid-career professionals and senior citizens choosing to spend part of their summer months on amusement park midways continues to grow. "Working at Kennywood is a great first entry to a young adult's resume," says Joe Barron, Human Resources Director for Kennywood and Sandcastle. "But it's also a wonderful opportunity for seniors and others looking to supplement their income with a job that's engaging, unique and often quite fun!" Employment at Kennywood, Sandcastle, and Idlewild brings perks such as flexible scheduling, scholarship programs, free admission to all three parks and other regional amusement parks, discounted tickets for friends and family, team-building activities such as movie nights, intramural sports competitions and discounts on park food and merchandise. Retirees, adults and teenagers interested in seasonal work are encouraged to apply online today. Most Kennywood, Sandcastle and Idlewild seasonal positions are available to applicants age 16 and older. Some job opportunities are available to those age 14 and 15. For those interested in learning more about working at Kennywood and Sandcastle, the parks will host two job fairs at Kennywood on Saturday, February 29 and Sunday, March 1 from 9 a.m. – 12 p.m. and 1 p.m. – 3 p.m. Idlewild will host similar events on Saturday, March 7 and Saturday, April 11, both from 10 a.m. – 3 p.m. For more information and to apply online, visit the Employment pages of each park: Kennywood, Sandcastle or Idlewild.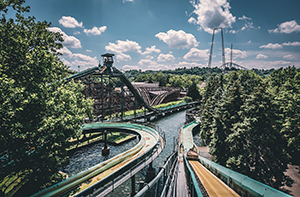 "It is a bittersweet decision, but one that in time will create some exciting opportunities for our guests," says Kennywood General Manager Jerome Gibas. "While no final decisions have been made regarding what will replace the Log Jammer, Kennywood is committed to enhancing our guests' experiences while preserving our signature balance of modern thrills and traditional family favorites."