By: Mark Frazee | Content Manager
Trees blooming. Rides testing. Team Members training. In just 10 short days, our 2022 Season begins with our Season Passholder Preview Day on Saturday, April 16! After a busy winter filled with refurbishments and restorations, we can't wait to get our 125th Celebration started. With the new season almost here, we have several updates and reminders we'd like to share, including:
Celebration Sale: Save Over 45% on Daily Tickets
Swing Into Spring: Kennywood's Newest Festival
Brunch with the Easter Bunny
Job Fair This Weekend
Preseason Pass Processing This Weekend
Season Pass 5 Pay Ends This Weekend
Phantom's Revenge Contest
Renovation Updates
Opening Celebration Sale: Save Over 45% on Kennywood Tickets!
Let's begin with a very special offer: our Opening Celebration Sale! For a limited time, save over 45% on daily tickets when you visit any public operating date through May 8, 2022. Take advantage of the lowest price of the season for Kennywood tickets, and be among the first to get back on your favorite rides and experience everything that's new at Kennywood this season!
In addition to big savings on Kennywood tickets, there's another fantastic reason to visit Kennywood this spring: our all-new springtime festival!
Swing Into Spring: Kennywood's Latest New Event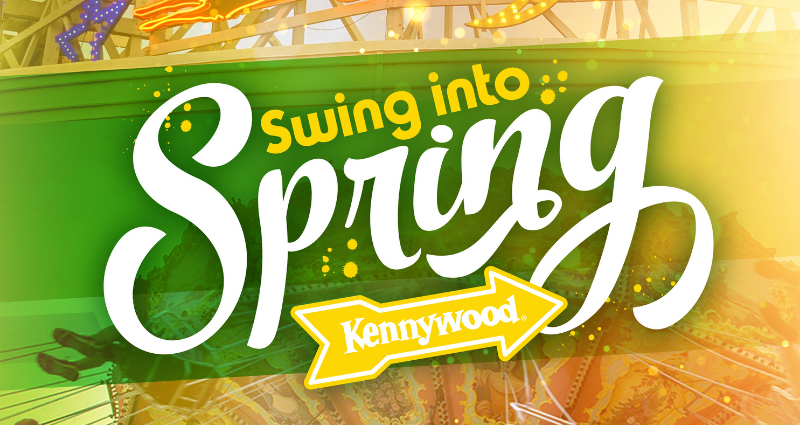 Swing Into Spring is the first event of Kennywood's season full of events in 2022, both old and new! Get back to the fun with Spring Into Spring, featuring new entertainment, new activities and new food!
Swing Into Spring is Kennywood's brand new springtime festival! Season Passholders get first access to Swing Into Spring on Season Passholder Preview Day, April 16, followed by the general public on Easter Sunday, April 17.
Shake off the winter blues and join the excitement as Kennywood's 125th Celebration begins! Swing Into Spring will feature live local music, delicious new food and beverage options and plenty of other exclusive special activities throughout such as a classic car show, scavenger hunts and BBQ cook-offs.  Plus, Season Passholders that receive food discounts (Silver, Gold and Platinum) can use these discounts on our exclusive Swing Into Spring tastings! Check out the full Swing Into Spring schedule to learn more.
Looking for family-friendly activities on Easter Weekend? For one weekend only, begin your day with Brunch with the Easter Bunny! Enjoy a delicious catered meal and grab a photo with the Easter Bunny himself. Available exclusively to Season Passholders April 16 and to everyone on Easter Sunday, April 17. Spaces are filling up quick, so grab your spot now before it's too late!
We're Hiring! Kennywood, Sandcastle hosting Job Fair this Saturday, April 9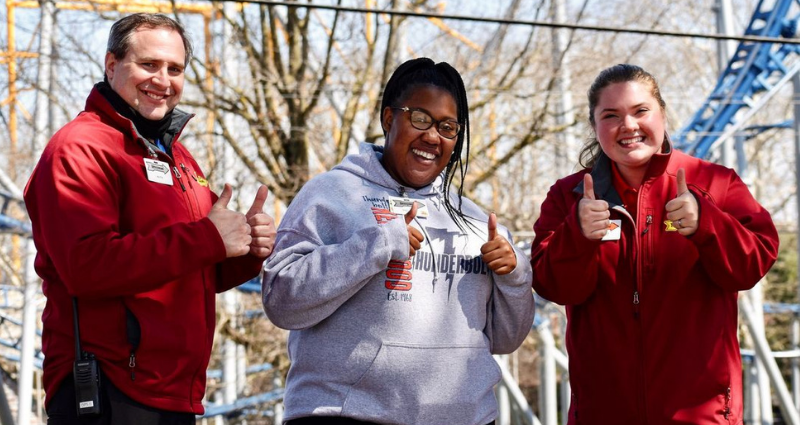 Competitive pay, flexible scheduling, after-hours events, exclusive discounts and more: just some of the many perks of working at Kennywood!
There's still time to join the Kennywood team! Our March Job Fair was super successful, so we're hosting another! Join us this Saturday, April 9, for a Job Fair at Kennywood from 9:00 a.m. to 3:00 p.m. Meet the Kennywood team, ask questions, grab some free snacks and enjoy open interviews! Positions are also available at Sandcastle Waterpark.
An added bonus perk: everyone who joins our team and completes the hiring process by May 1 will receive four (4) FREE Bronze Kennywood Season Passes! With increased competitive pay rates and tons of perks, Kennywood is the place for the Best Summer Job in Pittsburgh! Visit our Hiring Page to apply online anytime.
Preseason Pass Processing Continues This Weekend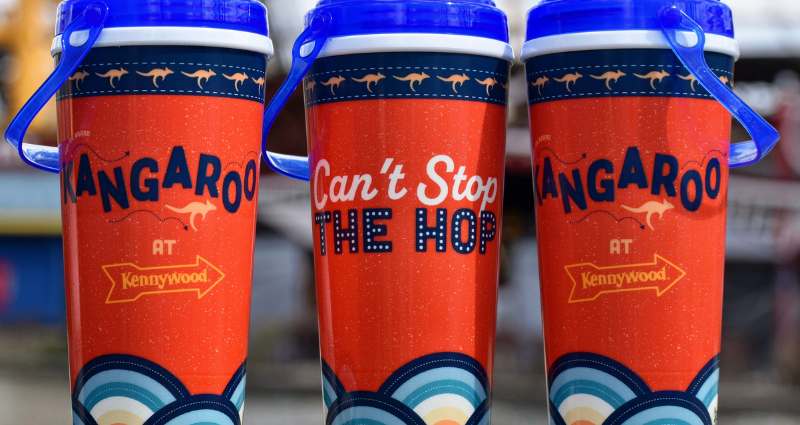 The Kangaroo bounces back to Kennywood Memorial Day Weekend, and we're celebrating the occasion with our 2022 Souvenir Cup!
Skip the line and save some time! Preseason Pass Processing continues this weekend for new-for-2022 Season Passholders. If you are a brand new Season Passholder, you will need to have your Season Pass processed if you have not already done so. These dates are a great way to save more time for riding on Opening Day! Some additional information:
The Season Pass Processing Center will be open for Preseason Pass Processing on Saturday, April 9 and Sunday, April 10 from 10:00 a.m. to 3:00 p.m.; plus Friday, April 15 from 12:00 p.m. to 5:00 p.m.
Gold and Platinum Passholders can pick up their FREE 2022 Souvenir Cups, which include unlimited FREE refills!
Additional regular 2022 Souvenir Cups will be available to purchase.
If you renewed your Season Pass and did not yet receive your souvenir cup, you can do so at most Kennywood food stands once we open. You are also welcome to pick up your cup during Preseason Pass Processing.
Due to construction in our parking lot, please enter the lot via Kennywood Boulevard across from the Gran Prix if you are visiting April 9 or 10.
You can also purchase Season Passes at the park on these dates, but the best deals for a Kennywood Season Pass are available on our website! Buy your Pass today and get access to tons of Passholder Perks, such as our Passholder Preview Day on Saturday, April 16!
5 Days for 5 Pay: Last Chance for Season Pass 5 Pay Payment Plan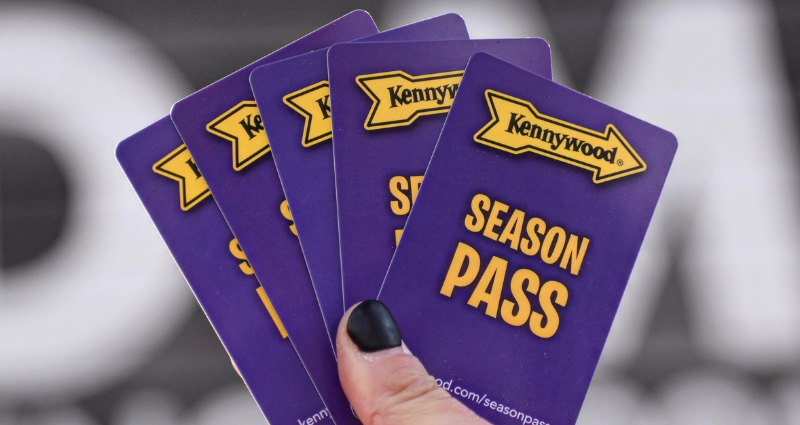 Look closely behind these Season Passes, and you'll notice the Old Mill's new facade is almost finished!
Speaking of Season Passes, our 5 Pay Payment Plan option ends this Sunday, April 10 - five days from today! Payment plans offer one of the most affordable options for a Kennywood Season Pass, so be sure to take advantage and get a summer full of memories for 5 easy payments starting at just $16 each.
Remember, you can process and use Season Passes on payment plans after the initial payment is received.
Vote Now: Phantom's Revenge Nominated as one of the Best Rollercoasters in the USA!
Kennywood's record-breaking Phantom's Revenge has once again been nominated as one of the Best Rollercoasters in the USA! We need YOUR VOTES to name Phantom as THE best. Last year, the Phantom finished in second place; add in the Phantom's brand new purple paint job, and it's even better! As of this writing, the Phantom is ranked in the Top 5. Keep the momentum going - vote daily through April 25!
On top of it all, work continues in the park - and we know you'll love all of the renovations and improvements coming to the park this summer. Some you already know about - and some will be an Opening Day surprise!
We do have two updates to share with you now: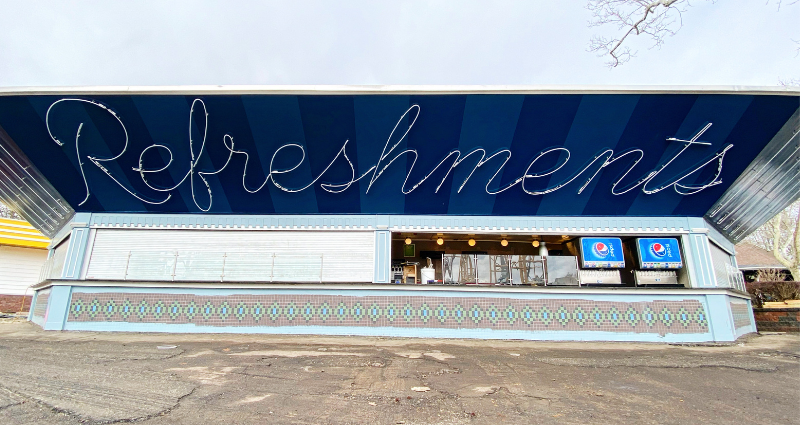 The Midway Refreshment Stand will look bright and beautiful with a new color scheme in 2022! We also replaced the building's signature neon signage.  You'll notice this entire area is also prepped for repaving.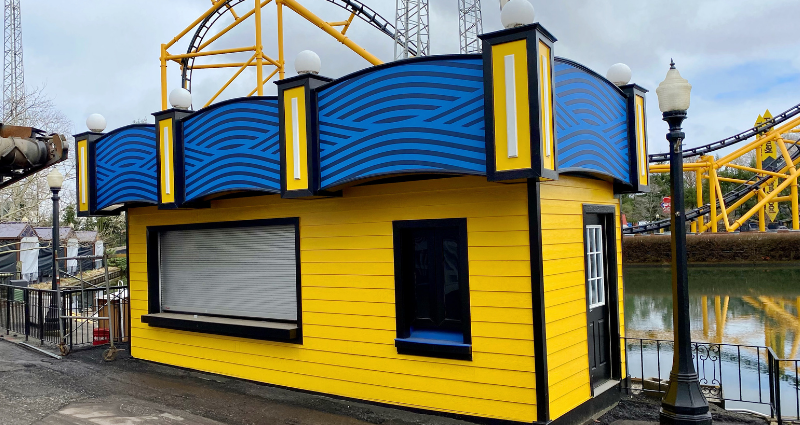 The Jack Rabbit photo booth also received a new color scheme! This entire midway will be repaved, all the way down to the Racer.
We can't wait to welcome you back next weekend! Be sure to check our Operating Hours for our full schedule, and be sure to keep an eye on our website for the latest park information. We'll also post plenty of Kennywood updates on our social media channels - including Facebook, Twitter and Instagram!
See you next weekend!
Comments or Questions? Contact Us!