By: Mark Frazee | Content Manager
In the warmth of the Penny Arcade, Dale Ledebuhr carefully places hundreds of pint-sized people on the grandstands of a very tiny carnival.
"The first year we set up the circus, I had about 150 people out here. My wife said, 'you don't have any people!' I said that there's 150 people out here. 'Well, that's not enough.' She went on EBay, ordered 900 people, painted them over the next week, and so we had about 1,100 people on the table that year."
After all, bigger and better is the name of the game for Kennywood's signature model train display. Carefully crafted by the Pittsburgh Independent Hi-Railers, the massive model has become one of the most popular things to see at Holiday Lights, with the Hi-Railers providing this giant display since our very first Holiday Lights in 2011. Yet there's a good chance that when you escape from the frosty December air into the warmth of the Penny Arcade, you haven't stopped to ask yourself why you're walking around a 350-foot display of tiny trains and puny people at Kennywood in the first place. 
"When we first opened Holiday Lights, we knew we wanted to have lots of traditions to bring people in and to connect with their own family traditions," says Marie Ruby, Kennywood Director of Operations. "One of the best family traditions is model trains going around the Christmas tree, so we brought in a model train layout and set it up in our cafeteria - where it lasted for 6 or 7 years. Then, it got moved to our arcade, which made it a bigger display. So we were able to make it much larger!"
"It's 14 scale miles, a quarter mile of real track," says David Neuman, Founder and President of the Pittsburgh Independent Hi-Railers. 
And just when it seems like there's no possible room to grow the display from last year, the Hi-Railers find a way.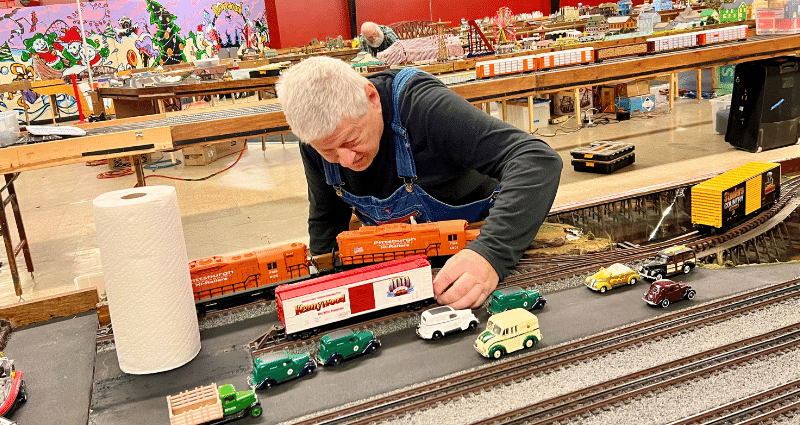 "This is our biggest model train display for Kennywood yet," Neuman says. "We run a lot of trains, 100 cars sometimes, and we've got a lot of lights - a lot of things moving, the circus, Merry-Go-Round and all the rides." 

"We always look forward to this every single year. We always think of some way - how can we get this bigger in some format? This year, it's about 10-12 feet longer," says Michael Schmel, a Pittsburgh Independent Hi-Railers member and also one of the ride supervisors at the Racer and Aero 360 during the summer. Schmel, 22, says his appreciation for the world of model trains started at a very early age.
"I've got involved ever since I was a kid. I remember when my dad used to take me to the shows when I was 7. He'd put me to work doing things, and it really grew from there. When I was 13, I was able to become a full-time member."
Schmel says having a massive model train display at Kennywood just makes sense.
"When you think about Christmas in general, you think about having a train underneath the Christmas tree. What's better than having a giant display in the Penny Arcade?"
And you know, such a giant display doesn't magically appear in the Penny Arcade overnight. There's a quick turnaroud to transform the building from the terror of the Villa of the Vampire to the magic of a massive model train. After 11 years, the Hi-Railers have the process mastered. It takes a small but mighty team.
"About 9 of us will be here working on this project this year," says Neuman. "It takes about a week, maybe 8-10 days to set this all up."
But Dale Ledebuhr argues it's taken a little longer than that.
"People will ask, 'how long did it take you to put this together?' And I love it when they word it that way, because I'm 66 and I got my first train when I was 9. So that's 59 years it took me to put this together!"
As he continued to properly place the tiny people in the tiny carnival, Ledebuhr explained what keeps him coming back to Kennywood each Holiday Lights.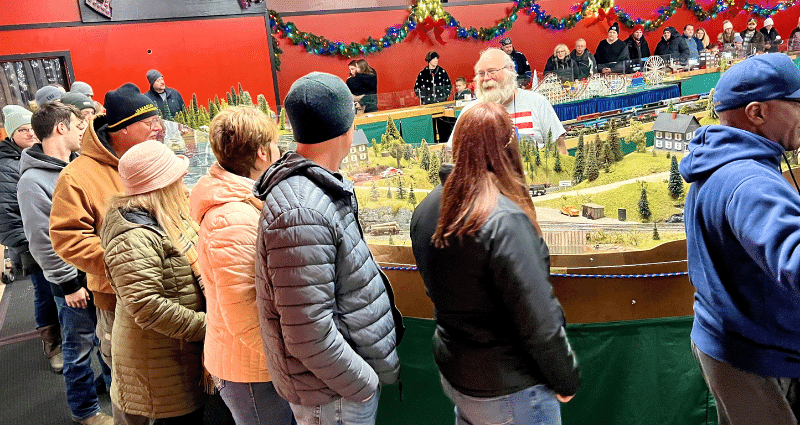 "I'm a resident of Florida, and I come up here every year to set up for this. It's a great way to showcase what we do and to educate the community on the importance of railroading in history. The whole generation that did the model railroads is dwindling down, and we hope to keep that spirit alive in the kids that come through here."
And that Christmas spirit is exactly what this dazzling display is all about.
"It's trains! Toy trains and Christmas? Toy trains and Christmas go together!" Ledebuhr says.
And for the Hi-Railers, seeing families enjoying the display together is what's most rewarding.
"It's always seeing the guests' reactions. Making them laugh, that's what makes it special and why we love being here," Schmel says.
"Watching the people come in," Neuman adds, "I get a kick out of that. Coming in to see something you built? That's pretty interesting!"
And after 11 years, it's now nearly impossible to imagine Holiday Lights without the model train display. Marie Ruby offers her thoughts on why that might be.
"It goes back to that tradition. Kennywood itself is built on family traditions. Model trains are a family tradition. You marry the two together for Christmas, and I think that's what it really means. Holidays mean families, families equal traditions, and one of those traditions is model trains. And for Holiday Lights, that's exacty what it's become."
Family traditions. That's what the model trains are all about. That's what Holiday Lights is all about.
"Guests will come in and say: 'my dad had something like this,' or 'I remember as a kid setting this up,' or, you know, 'my grandpa had something like this.' It gives them a chance to relive some youth," Ledebuhr explains. "I say growing old is mandatory, but growing up is optional."
Kennywood's Holiday Lights occurs every Friday, Saturday and Sunday through December 23, plus nightly December 26 - January 1. More Information on Holiday Lights