Kennywood days are unforgettable! But what about when it rains? While Mother Nature is the one factor none of us can control, there can be benefits to choosing to visit on a day when rain is in the forecast, and ways to still have the maximum amount of fun!
Kara Abbey is a Pittsburgh-area photographer married to a roller coaster fanatic. She blogs frequently about her business and family life, and when she wrote a recent post about Kennywood, we invited her to repost it on our web site. So if it does happen to rain on your Kennywood Day, use these tips to turn your frown upside down!
Kennywood Park is our home park.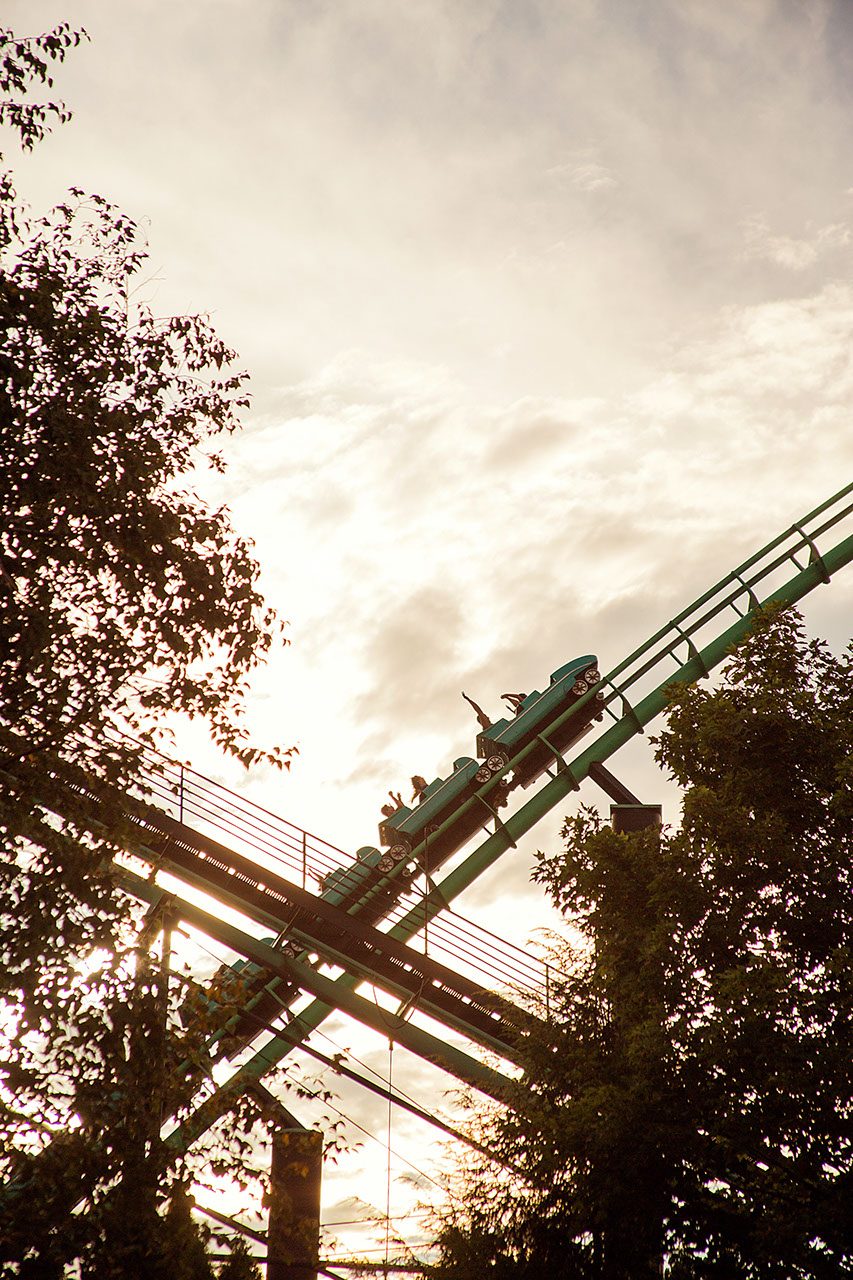 We live about 30 minutes away, and a yearly trip to Kennywood Park is a summer tradition for my family. I remember the summer I was finally tall enough to ride all of the coasters – it was the last summer that the Steel Phantom was running. Because of the restraints, they advised those riding to remove their earrings before riding. My ears hadn't been pierced for very long, and I had the original 14k gold balls in my little earlobes. Excited, but shaking, I went to take them out while we were standing in line, and I dropped one. If you've ever ridden the Steel Phantom (what's now the Phantom's Revenge), you'll know that the line is elevated, especially as you get close to the station. Of course, when I took my earrings out and dropped one, it was at that elevated part of the line and it fell to its "death" into the foliage below. There was no way I was ever getting it back. So, that's my Steel Phantom story. Anyways, back to Kennywood being our home park.
We're weirdos and try to go on a day when a little rain is predicted.
A little rain in the forecast doesn't bother us one little bit at Kennywood. In fact, that's how we prefer it! The lines are considerably shorter, the heat isn't as unbearable, and the crowd doesn't press – it's wonderful! And, over the years, we've found some fun things to do while we wait out a rain storm (and while everyone leaves!)
Here are our favorite things to do when it rains at Kennywood Park.
1. Eat! It goes without saying, but eating is one of the best things to do at Kennywood! There are Potato Patch Fries, ice cream, the Parkside Cafe, and Johnny Rockets! A lot of the restaurants offer indoor or covered seating, so you're good to go. Enjoy!
2. Shop! Touring all of the gift shops (and fudge shop) isn't always at the top of our to-do list when the park is dry, but when it's raining out, it's a fun activity! We love looking thru the clearance racks & finding good deals – something that the rain gives you permission to do!
3. 4-D Show! You might not even know this, but Kennywood has a 4-D Theater & this season (2017) they have introduced a new show! The Ice Age Adventure has gone away & a new Lego Movie Adventure is here! It's a lot of fun and I'm convinced that half the people who come to Kennywood don't even realize that the 4-D Theater is even there (it's across from the Pirate Ship and around the corner from the Phantom's Revenge entrance)
4. Ride! Yes! Even when it's raining, there are certain rides that will still be running! Kennywood has a lot of indoor or covered rides, so even when the big coasters shut down because of lightning in the area or a hard rain – don't miss the Exterminator, the Bumper Cars, Ghostwood Estates, the Carousel, and so many more!
5. Rest! What? No, seriously, hear me out! When the weather is gorgeous, we always tend to run, run, run at amusement parks. We're always standing in line, running to the next attraction, barely even sitting down to eat! What's more fun that sitting down for a few minutes and doing a little people watching? You'll see kids out playing in the rain and people making a run for it trying to dodge the rain drops - it makes for great entertainment!
The best part of a little rain shower at Kennywood...
When it first starts raining, everyone will run for the nearest cover. If you're lucky, and it keeps on raining for at least 10 minutes, you'll start to see people leaving. If you're really lucky, and it's a good summer rain, half the people who originally run to cover with you will leave! Whatever you do, don't leave! Hang out, rest, eat, enjoy yourself! When the park opens back up (like it typically & inevitably will) the big rides will be walk-ons and you can enjoy the rest of your day riding to your heart's content!
Thanks to Kara and Derrick for allowing us to repost the blog and photos. Can't wait to see you at Kennywood--rain or shine!
Photos on this page courtesy of Kara Abbey.